Bitcoin
has a problem and these 'ads' below underline its problem. It is a highly risky
product being promoted to highly uneducated people in the tricky world of
money.
Have a
read of the promotional headlines and look at the images the promoters are
using to get people in.
And by the
way, I was reading a business story from the Miami Times, which, thanks
to the Internet and search engines, meant a local Aussie reader could be
advertised to about bitcoin!
Now I'm
not even saying that bitcoin is a bad investment but I am saying it's a risky
one. And yet it's portrayed as an easy 'get rich' way to a better life. And in
an age where the Internet can target you anywhere you're surfing on the
worldwide web, uninformed Aussies could be tricked into losing a lot of money.
Be clear
on this: bitcoin has its supporters. One is the legendary investor Bill Miller,
the founder of Miller Value Partners,
who admits to being very invested in the cryptocurrency.
Miller
recently told CNBC that Bitcoin could spike 100% this year. But who knows if he'll
be right?
However,
in the game of building wealth, you always have to be careful about headlines
and ads. If you invest in anything you don't understand, then you could cop a significant
hip-pocket loss. And if you don't pay for advice or seek expert views on
whether you should invest in bitcoin, you can only blame yourself if the
investment/gamble doesn't pay off.
So let me
do the homework for you and tell you what Miller said about bitcoin. Here goes:
He thinks inflation will eventually come out of the boom that will be powered by the huge fiscal spending worldwide because of the Coronavirus. Bitcoin is seen like gold as a hedge against inflation.
Yep, he did say its price could go up 100% this year but it's a guess.
"One of the things that's interesting about Bitcoin is that it gets less risky the higher it goes, and that's the opposite of what happens with most stocks," he said.
Miller says if you can't cop a possible 80% correction in the price downwards, then forget about bitcoin.
And here's the really important piece of advice he gave: "Investors should consider holding 1-2% of their portfolios in bitcoin as opposed to cash, because cash will be a "guaranteed loser" and lose at least 2% in value each year with the current inflation rate." (businessinsider.com)
Bitcoin has had three 80% corrections, so it shows you how scary this
investment can be. The chart below shows how the cryptocurrency performed in
2020, with a low of US$4,106 and a high of $41,946! This isn't an investment for
the feint-hearted but history says it has paid to buy when the market has
completely dumped the stuff!
Bitcoin Over 2010-Now

The Big Ups and Downs of 2020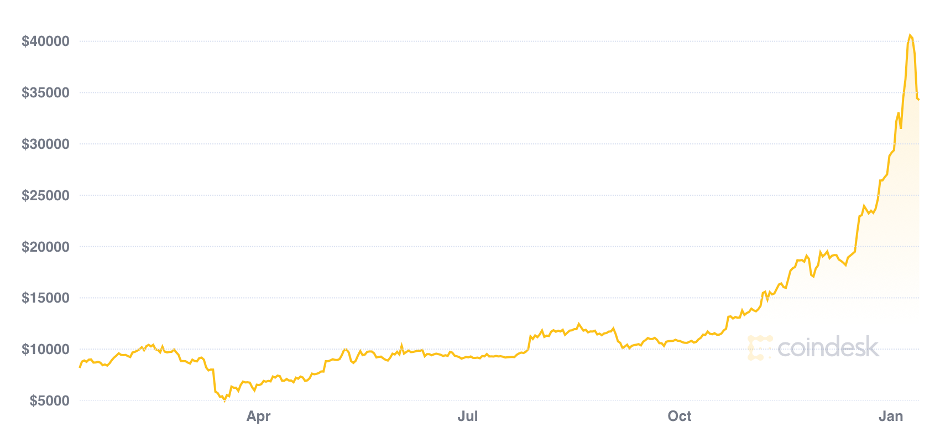 One big
risk for investors could be a regulatory one.
Kiplinger.com's
Andrew Packer sees regulations on bitcoin as a "wild card" you have to
understand could be levelled at the cryptocurrency world. "While fewer people might be asking about
using bitcoin to buy illicit substances anymore, regulators are again
taking a close look at digital currencies, this time with a focus on how these
coins act as securities," he wrote un early January. "The most noteworthy
of late: In late December, the Securities and Exchange Commission SEC filed a
lawsuit against the 'altcoin' Ripple. (Altcoins are any digital coin that's an
alternative to Bitcoin.) The issue at question is whether its digital
currency is really a digital currency, or if it's an unregistered securities
offering. The news was enough to cut Ripple prices by more than half in
just a few days, and several cryptocurrency exchanges stopped trading in the
altcoin until the issue is resolved."
(Aside from the
cryptocurrency XRP, Ripple is perhaps even better known as a payment
settlement, asset exchange, and remittance system that works more like SWIFT, a
service for international money and security transfers that is used by a
network of banks and financial intermediaries.)
This is just another unknown
issue for potential investors to think about. And it raises the question about
how a Biden presidency will treat bitcoin.
There are no stated Democrat
policies on the subject but it should be noted that Joe Biden's Treasury
Secretary, former Fed boss, Janet Yellen, has expressed some views on the
cryptocurrency.
Forbes has reported that: "She has said that 'she will say outright that she is not a fan' of bitcoin, saying that many of the transactions that "do take place on bitcoin are illegal, illicit transactions." She has speculated on the "very high" energy usage of bitcoin, as well as cybersecurity concerns around anonymous cryptocurrencies."
I wouldn't expect anything any time
soon from the White House after January 20 that will hurt bitcoin's price, but
any serious talk of regulation (as opposed to an outright ban, which I can't
see happening) will be negative on a price that looks way over the top.
Meanwhile, comparisons of bitcoin
to gold do look questionable because while they do tend to spike together,
there's a huge difference when it comes to volatility or price ups and downs.
The chart below tracks bitcoin
and gold since March 2013. There are similarities when it comes to fear driving
their respective prices higher but gold investors haven't experienced as many
big down phases, though on the other hand, they didn't enjoy such a big spike
in 2020.
The bottom line is if you want to
play bitcoin, put on your seatbelt. And if you lose money, it will be your
fault. But if Bill Miller is right, you could look like a genius, albeit a
lucky one!
That said, let me remind you that Bill only recommends a 1-2% of your portfolio exposure to the cryptocurrency.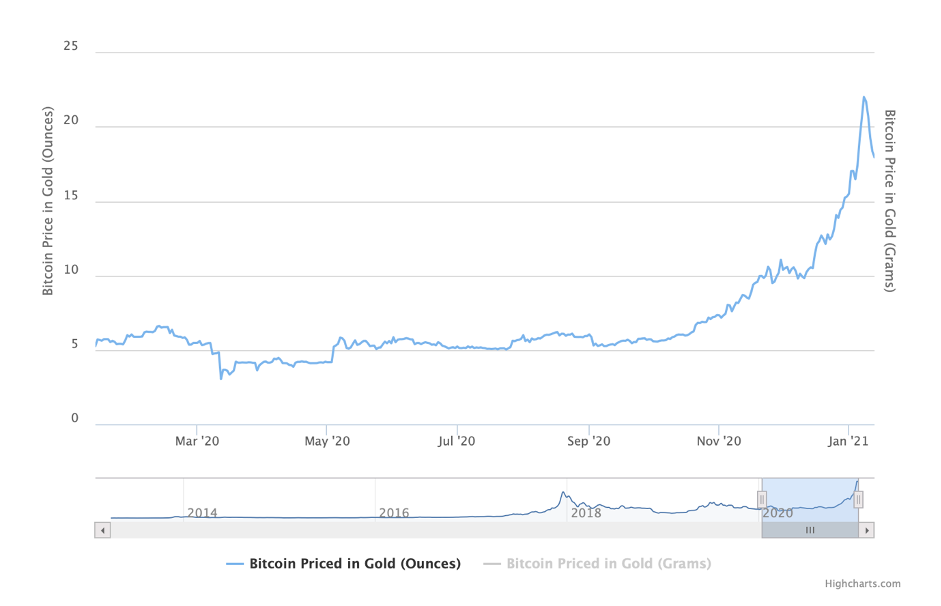 (Excerpt) Read more
Here
| 2021-01-13 14:32:23