The Executive Interview series will provide you with exclusive interviews with newsmakers, industry leaders, and experts in the technology industry.
Interviews do not imply endorsement of the company, its products, or any associated securities. Rather, it is meant to provide you more information for your consideration from those currently directly in the industry itself.
I recently had the pleasure of interviewing Jacob Kowalewski, Berlin-based Marketing Manager at Lisk. Lisk (LSK-USD) is a cryptocurrency which distincts itself through the use of JavaScript as a development language.
Lisk believes that due to the widespread popular understanding and usage of JavaScript it makes its cryptocurrency more accessible as a platform for developers and users.
As compared to other cryptocurrencies that require more complex programming languages, Lisk hopes its accessibility will mean greater innovation and participation by developers on its Blockchain. Lisk is currently in the process of making a more complete rollout of its platforms and kits.
We also discussed how the cryptocurrency space is developing overall, and particularly how regulation is moving forward in Europe (such as in France and Ireland) and its impact on cryptocurrencies.
Listen yourself below:
(Source: Lisk Media Kit)
Currently at a price of $5.23 per Lisk and a market capitalization of $562 million, according to CoinMarketCap, Lisk had previously reached a market capitalization high of about $4 billion during the cryptocurrency expansion from late last year to early this year.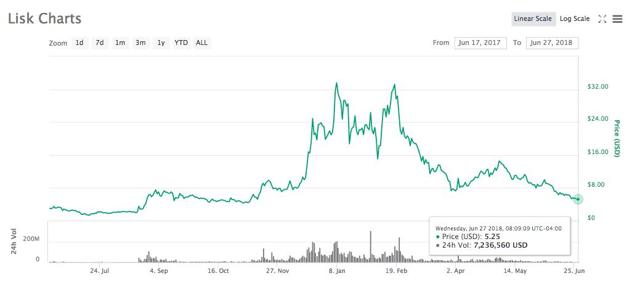 (Source: CoinMarketCap)
At Tech Investment Insights I discuss specific companies and investment products that I believe are especially poised to gain in the market, as well as the one to avoid.
Focusing on technology in particular, I provide you updated risk-reward ratings of dozens of companies, price targets on potential worthwhile investments, portfolio strategies, and alluring risks to avoid. I hope you will give it a look.
Disclosure: I/we have no positions in any stocks mentioned, and no plans to initiate any positions within the next 72 hours.
I wrote this article myself, and it expresses my own opinions. I am not receiving compensation for it (other than from Seeking Alpha). I have no business relationship with any company whose stock is mentioned in this article.
(Excerpt) Read more
Here
| 2018-06-28 04:27:15