Bitcoin is Melting, Again
Bitcoin (COIN), (OTCQX:GBTC) is not having a great week, and it looks like this sell-off may get even worse. After a failed attempt at $12K, Bitcoin entered the meltdown phase, cratering by roughly 30% in just a few days. Several simultaneous detrimental developments caused this sell-off to intensify after the failed technical attempt sparked the negative price action. However, there is one predominant factor that has become the "elephant in the room." Bitcoin's apparent loss of popularity could keep prices depressed for a lot longer than many people expect, and we may be looking at a near perfect storm scenario of events that could cause the current sell-off to become much worse.
The Binance Hack
One of the elements that helped exacerbate the recent sell-off was the Binance hack. It's not exactly clear what caused the issues at the popular exchange, but what is known is that numerous users reported their coins being sold off at random, without their knowledge or consent. This led to the speculation that a hack occurred at the crypto exchange, which in turn caused Bitcoin and other digital assets to sell off. Bitcoin cratered by about 7% in minutes following the news.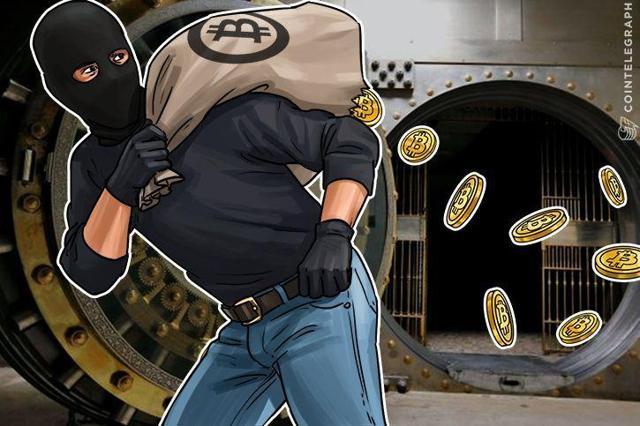 Source: CoinTelegraph.com
This Binance hack is an additional problem at a time when Bitcoin is already being confronted with so many challenges. This incident is another example of why more rigorous regulation is needed in the exchange space. But it also creates an additional element of uncertainty and mistrust in the segment, causing many to speculate about the safety of crypto trading once again.
SEC Warning
At approximately the same time as the Binance incident, the SEC came out with an ominous warning signal to the crypto world. The statement suggested that further scrutiny of cryptocurrency exchanges was needed, and that the SEC was ready to hand out subpoenas to those that did not comply with the new rules. This piled additional selling pressure on top of the Binance news, which caused the sell-off to accelerate, prompting Bitcoin's drop to increase to over 10% in just minutes. This also drove Bitcoin to fall through the all-important $10K mark.
Japan Clampdown
Next, Japan, probably the world's friendliest market for crypto trading, suspended trading at two of the country's major exchanges, Bitstation and FSHO. Reportedly, one of Bitstation's executives used customer funds to conduct personal transactions. And FSHO failed to shore up customer protection. In addition, the country's financial services agency imposed penalties on five other exchanges, due to their failure to improve security meant to prevent further cyber attacks.
Loss of Popularity
While the issues discussed above may prove to be transient in nature, there is one notable factor that cannot be ignored. The elephant in the room that is causing Bitcoin's price to plummet is the apparent loss of appetite for Bitcoin. Ever since the drop occurred from $20K, Bitcoin has been steadily losing its popularity. In stark contrast to what we saw going into year-end, financial pundits are paying it very little mind these days, people are talking much less Bitcoin at the dinner table, trading volumes have dropped off significantly, even Bitcoin articles are attracting fewer readers and prompting less commentary.
Everything is pointing to a loss of interest in Bitcoin, it appears that people are "Bitcoined out" a bit. Whether this will be a transitory or a lasting phenomenon remains to be seen. But what is certain is that sentiment drives price in Bitcoin, and with an apparent loss in popularity, sentiment seems to be turning decisively more pessimistic, which is leading to the current price decay.
And it's not just Bitcoin, the whole cryptocurrency complex appears to be struggling. The cryptocurrency complex's market cap chart shows that the value of digital assets has declined dramatically since it hit a combined value of over $800 billion. Now the market cap threatens to retest the $300 billion level. If this level fails, it could open the door to panic selling in some of these assets.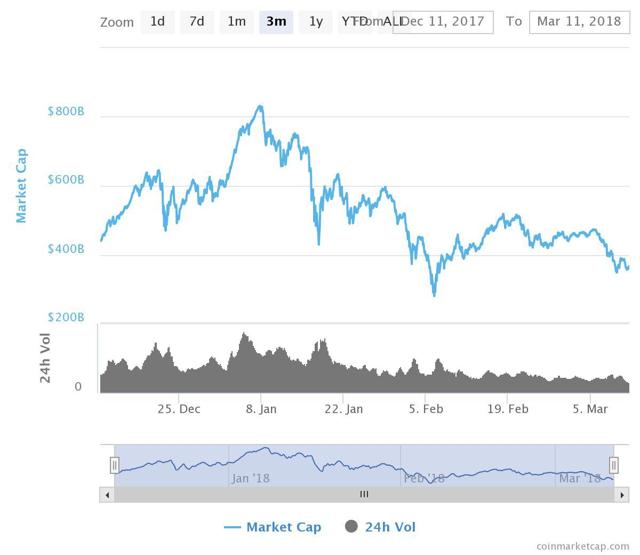 Source: CoinMarketCap.com
But It's Not All Bad News for Bitcoin
While the short-term picture arguably looks grim for Bitcoin, there are a few favorable developments on the horizon. For instance, there may be some meaningful regulatory breakthroughs in South Korea soon. The proposed legislation aims to legalize Bitcoin and officially classify it as a "liquid asset" in the country. South Korea is a key market for Bitcoin, third only to the U.S. and Japan. Once the regulatory issues are resolved, more liquidity will enter the Bitcoin market, and should create a more stable atmosphere concerning Bitcoin trading in general.
Also, there is the implementation of the Lightning Network, which promises to solve many of the functional inconveniences associated with Bitcoin, mainly scale, speed, and cost. The system appears to be functioning as intended, and is in the opening stages of its expansionary cycle. It is possible that the LN will become widely adopted over time, which could enable Bitcoin to become an effective worldwide medium of exchange instrument someday.
With further adoption of the LN, and with regulatory breakthrough in South Korea as well as in other areas, it is possible that Bitcoin may experience renewed interest from the public and institutions alike in the later part of the year, or further down the line.
Technical Breakdown
Bitcoin failed a key retest at the $12K level, and it has been all downhill from there. To make things worse, this appears to be a clear double top at $12K, followed by a decisive break below $10K. The price action looks very negative and suggests we may not see prices above $10K for some time. Also, the clear downtrend may take Bitcoin significantly lower. I am not sure a retest of the $5-6k level will hold this time. Therefore, it is possible that Bitcoin may be headed considerably lower in the short term.
On the 10-day chart we can clearly see the massive down volume spike that occurred during the Binance/SEC statement sell-off. What makes this disturbing is the fact that almost no buying interest followed the massive selling, suggesting we may not be anywhere near a bottom yet.
However, one constructive element on the chart is the possible double bottom setup at $8,500. This level needs to hold, and if does not Bitcoin will very likely fall through $8K, and cascade lower to at least the $5-6K level, possibly lower.
Conclusion
Bitcoin's loss of popularity is a significant issue when it comes to price stability in the short to intermediate term. Moreover, certain detrimental developments are putting additional pressure on the cryptocurrency world, and are causing prices to cascade lower. In addition to the seemingly negative fundamental developments surrounding Bitcoin, the technical setup appears to be deteriorating as well. Bitcoin's apparent loss of popularity is impacting sentiment, which is causing prices to head lower.
This phenomenon is likely to persist until something renews mass interest in Bitcoin. This could be further adoption of the LN, introduction of Bitcoin ETFs in the U.S., regulatory breakthroughs, large institutional investments, amongst other constructive developments. While these are likely to materialize in time, there is no guarantee they will emerge any time soon. Therefore, Bitcoin is likely to trend lower for now, and it may not see $10K for some time.
I remain constructive on Bitcoin long term. Moreover, certain positive developments could spark a major Bitcoin rally sometime in the latter half of this year. But for now, it appears Bitcoin is going lower, it may be destined to retest the $5-6K level, and given the ominous technical setup there is no guarantee that this level will hold this time. I sold half of my Bitcoins when the price broke below $10K. I now hold a relatively small position, and plan to add at lower prices.
Disclaimer: This article expresses solely my opinions, is produced for informational purposes only, and is not a recommendation to buy or sell any securities. Investing comes with risk to loss of principal. Please always conduct your own research and consider your investment decisions very carefully.
To receive real time updates, and get more information about this idea as well as other topics, please visit the Albright Investment Group trading community. Join us and receive access to exclusive content, trade triggers, trading strategies, price action alerts, and price targets. These value-adding features are available only to members of our trading community and are not typically discussed in public articles.
Disclosure: I am/we are long BITCOIN.
I wrote this article myself, and it expresses my own opinions. I am not receiving compensation for it (other than from Seeking Alpha). I have no business relationship with any company whose stock is mentioned in this article.
(Excerpt) Read more
Here
| 2018-03-12 05:41:26