The most popular cryptocurrency, Bitcoin reached new high in 2019, jumping above USD 7,000, the level last seen in September 2018, while the rest of the crypto market is registering strong gains, also.
Bitcoin even surpassed USD 7,300 before the midnight on Saturday night (UTC time) and later has corrected lower to USD 7,223 (05:36 UTC). The price is up almost 8% in the past 24 hours and more than 24% in the past week. Bitcoin broke the USD 6,000 level only a few days ago, on May 9.
BTC price chart: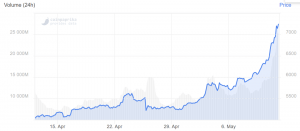 The weekend rally pushed the whole market capitalization up more than 8%, to almost USD 218 million.
Other digital tokens from the top 10 by market capitalization registered even stronger gains today after a bad week. Ethereum jumped almost 10% and Bitcoin cash advanced the most among the largest coins (23%).
Top 10 coins by market capitalization:
(05:36 UTC)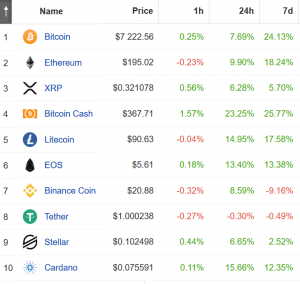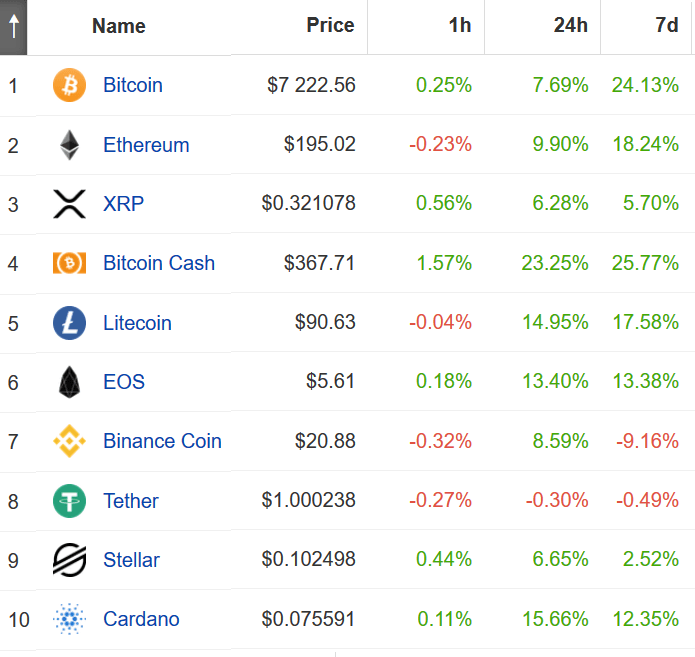 Almost all coins from the top 100 are also in green, rising around 5%-10% in the past 24 hours. As reported on Friday, as Bitcoin dominance in the crypto market grows, another altcoin rally may be just around the corner, and tightly tied to the price movements of BTC, some industry players estimated.
(Excerpt) Read more
Here
| 2019-05-12 05:48:00